The first 8 weeks lay the groundwork for the rest of your puppy's life in regard to Health and Temperament.
Everything we do is carefully planned, designed, and intentionally carried out with this in mind. We are constantly researching and seeking to further improve our program.
Health
---
For large breeds like German Shepherds, a major health concern is hip dysplasia. Puppies are born with perfect hips; their joints are cartilage at birth and only become bone as the puppy grows. Research shows that environment during the first 8 weeks has great impact on joint development. The three most important environmental factors are nutrition, exercise, and surface area.
Nutrition: this starts before the pups are even born! Our Mama dogs are on the highest quality food, and are given equal quality prenatal vitamins during pregnancy. After the birth of their pups, they're given post-natal vitamins for recovery and nursing. Once our puppies are transitioned to solid food, they are also only given the highest quality nutrition. Their weights are carefully monitored in order to prevent obesity; overweight puppies have a much higher risk for developing dysplasia.
Exercise & Surface Area: studies show that puppies raised on hard surfaces have a higher risk of dysplasia, while those that regularly play on soft, uneven surfaces (i.e. the yard) are at lower risk. We have carefully chosen the surfaces on which our puppies live for optimal health and cleanliness. While they are very young and not able to walk, they are on a carpet-like material designed specifically for puppies that we wash regularly to keep our puppy nursery fresh. It is not only comfortable for Mom and pups, but also provides good traction to strengthen muscles that hold joints in place. When the pups are older, we are also very intentional about taking them outside several times each day for safe and fun "play time" on the naturally beneficial soft ground. This is healthy for body and mind; a constantly cooped-up puppy is an unhappy and understimulated puppy. For more information on research about the environment affecting hip and elbow development, click HERE.
Temperament
---
The number 1 reason for puppies and dogs being abandoned or placed in a shelter is temperament. A bad temperament can be the result of irresponsible and/or uneducated breeders turning out puppies with unsound, nervous, or aggressive temperaments. It can also be the result of poor socialization during the most crucial first 8 weeks of life. In addition to breeding only well-mannered dogs that produce sound temperaments according to standard, we have a reputation for producing puppies socialized well above normal expectations and for putting a significant amount of intentional work to condition each puppy for family life. Our pups greatly benefit from our foster program setup and the fact that we are a family professionally breeding on the small scale. Read more about this on our Home Page. Our pups are not only used to group interaction, but are also regularly given individual one-on-one time. They are exposed to many positive and safe situations/sights/sounds and interact with all ages. Each day from birth is filled with intentional handling and conditioning for a solid foundation in life and smooth transitions to their new homes. The section "From Day 1 to 8 Weeks" below lists some of the ways we do this.
Families Raising Pups for Families
---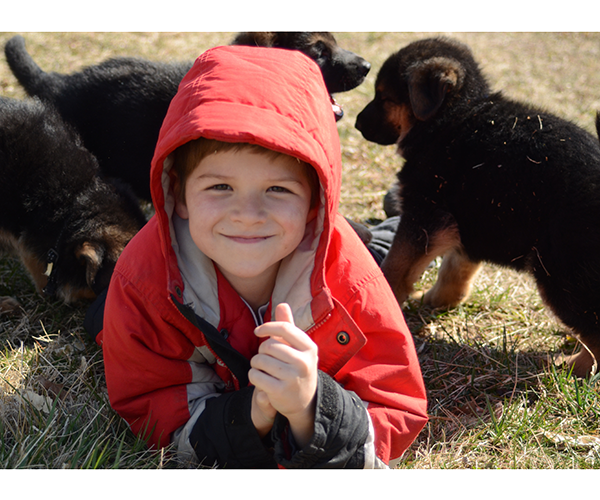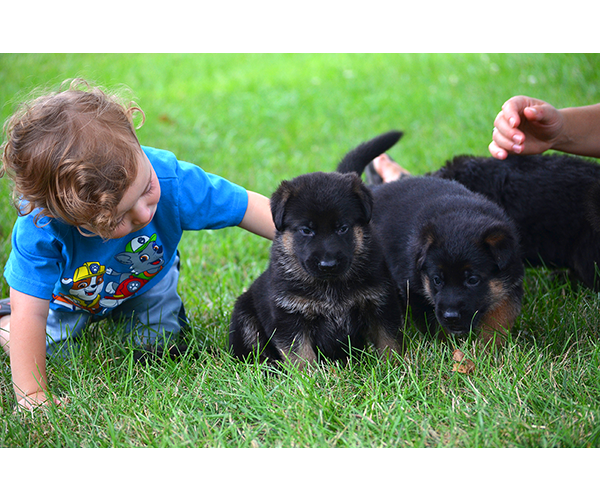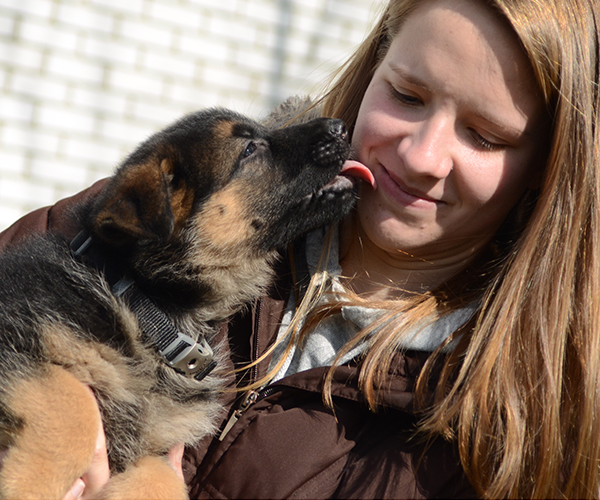 From Day 1 to 8 Weeks
---
From birth until 4 weeks the puppies are on soft, carpet-like material; it helps to prevent future joint problems and promotes warmth and comfort. When they start to require more room to run and play, they are moved to a larger playpen more suited to their rapidly growing bodies and minds. If the litter is being raised with one of our foster families, the puppies are raised in their home for the entirety of the 8 weeks under our care. However, if they are at our "home base" in Hagerstown Maryland, the playpen is in our "puppy building." This climate-controlled building was built and customized specifically for raising healthy and happy puppies. We designed their larger play space so that the mother still has access to the puppies, but can get away and lay elsewhere in the building for a rest if needed. Some breeders abruptly separate the mother from her puppies at 4 weeks to suddenly wean them for show reasons. We find that this is incredibly sad for the mother and also not as healthy for the puppies. It is important for the mother to be allowed to nurse the puppies for as long as she will tolerate it. She provides excellent nutrition with immune and digestive support. The mother also has free access to the outdoors during this time. In one part of the puppy playpen are clean, fresh woodchips where the puppies quickly learn to potty. This spot-training is done intentionally to pave the way for smooth house training and has yielded excellent results. Every pup is different, but most new families have reported only 1-2 messes in the house, and usually only due to a mistake in watchfulness. Others have reported no messes.
When each of our pups are born, they're given collars for identification and weight-tracking purposes. By the time they outgrow their newborn ID collars, they are usually identifiable without the collars and weight-tracking is no longer necessary. However, we still take the time to transition them to a larger set of puppy ID collars. Why? A puppy that is unaccustomed to a collar when it goes to its new home will itch and scratch at it for a day or two. It's mildly irritating and strange to them while already going through a big life transition. However, the main problem is that infection can occur around their neck area if scratched from their attempts to dislodge the collar. To prevent irritation and potential lacerations, puppies should be accustomed to collars due to the breeder's introduction at a young age. When collars are a part of their lives from birth, there is no annoying adjustment for them.
Rather than use velcro ID collars, we use special breakaway collars that will fall off instead of choking the puppy should they get caught on anything.
Starting soon after they're born, pictures and/or videos are posted regularly updating families on the puppies' progress. These videos and pictures are great keepsakes for the future.
At 2 weeks old, we start placing the pups in a comfortable crate when we take Mom out to potty. At this point, they are not aware of much so there is no transition to their new temporary surroundings. They're so young, the crate will never be an unfamiliar or scary place to be.
At 3 and 5 weeks of age, the puppies receive their first and second sets of deworming alongisde a dose of probiotics for digestive support.
By 4 weeks old, crates (at first with no door attached) are now being left in their puppy area and incorporated into their outside play times. They'll happily choose to walk into the crate and relax inside for short periods of time, or to play inside. There's still ground to cover from this point, but the right start. If you've ever tried to put a new 8 week old pup in a crate, sheer panic ensues and it's apparent why it would be helpful for the breeder to have introduced it earlier. The pup has clearly never been alone in its lifetime, having always been surrounded by Mom and/or littermates. Add being confined in a strange crate in a new home, and it can be quite the sleepless uphill battle for weeks, even when introduced slowly and positively. Crates keep young pups safe, and should be taught young by the breeder as a happy place to be. It is quite the undertaking to set the crate training foundation for an entire litter at once, but we have found it extremely valuable to our puppies and their new families.
At 5 weeks old, doors are added to the puppies' individual crates, and extremely short crate training sessions begin. These sessions are increased over time as training progresses and according to how long age allows the puppies to comfortably nap and hold their small bladders.
At the 6th week, the puppies get their first vet visit and car ride. Each one is thoroughly examined, receives their first vaccinations, as well as a certification following clean bills of health. We make this a positive experience for the pups and they enjoy exploring the vet's examination room.
At 49 days old (7 weeks), each of the puppies will be temperament tested with the Volhard Puppy Aptitude test for the sake of even better home placements. Temperament isn't fully developed until long after the pups leave our care, but this testing can help predict several aspects of a pup's future temperament. It's pretty much a given that any of our pups would do well in any good home; they are just delightful dogs and bred for amazing temperament! We've always had highly satisfactory placements, but are always looking to improve and can even better ensure each family gets the best match to their preferences, lifestyle, experience level, or needs within the normal range of pups we produce. But the most important reason we now do temperament testing is because we've placed quite a few pups with families as service or therapy dogs, and continue to get requests for this for a variety of special needs. We've had quite the range: from a service dog trained to be the ears for their Deaf family, to therapy dogs trained for autistic children, and more. Each scenario requires slightly varying temperaments to be best suited. The aptitude test will help best match clients with specific special needs to the right pup.
After the aptitude test at 7 weeks old, we'll have people choose their puppies in the order in which the deposits were placed. They may choose remotely through pictures and our feedback on coat, temperament, etc. Or families may choose in person; whichever they prefer!
At 7.5 weeks of age, the puppies are started on Revolution. This is a gentle treatment that's suitable for young pups to protect them from heartworms, fleas, some ticks, and ear mites. We suggest getting a combination of K9 Advantix ii and Interceptor Plus for your puppy at his/her first vet visit and single doses of each monthly thereafter during the growth stages according to weight. You can get multi-packs once your pup has reached its adult weight. It is important they remain on a heartworm/flea/tick protection combination for the entirety of their lives.
Also at 7.5 weeks of age, each puppy is microchipped with an AKC Reunite 134.2 kHz ISO chip. Each family can enroll online after taking their pup home; there's a one affordable payment for lifetime registration. We time microchipping to be a few days before the pups go to their new homes so that no special care is required of their new homes for the insertion site. The main trick is that they should not be pet between their shoulder blades or the chip is known to be worked out. By 8 weeks old, working out the microchip is no longer a concern and we double check each puppy with a scanner to ensure successful implantation. The combination of microchipping and wearing ID tags will help ensure the identification and safe return of your beloved companion should unexpected separation ever occur.
Crate training sessions have continued, and throughout their time with us they've gotten regular outdoor play time, as well as individual one-on-one time, and have been daily introduced to new postiive situations/sounds/experiences. Our puppies have now been transitioned to eating solid kibble (not soaked to a mush), and are fully weaned by their Mom in preparation for their new homes.
Puppy pick-up day is fast approaching, and before the pups go to their new homes they're each given baths and get their nails clipped.
At 8 weeks of age, the puppies are ready for their new homes! They are happy, healthy, well-socialized, and confident! When they are picked up, the remaining purchase price is due in cash.
We want both our puppies and our customers to be happy! During the first 8 weeks, the groundwork has been laid for success, but our service doesn't end there. You can count on us now and in the coming years for a lifetime of support.
*Please note that if we are asked to hold a puppy past its eight week old date, an extra $20.00 will be charged each additional day for food and boarding.
Each Puppy Comes With:
---
Limited AKC Registration (no breeding rights)
Vet Records
Health Certificate
Microchipping
Hip & Elbow Guarantee
Lifetime Genetic Guarantee
Additional 10 Day Health Guarantee
Lifetime of Support
Placing a Deposit
---
We start accepting deposits when a breeding is planned.
Deposits are non-refundable unless there is no puppy of the gender requested. In this case, the deposit may be refunded, transferred to the other gender (if one is available), or transferred to another litter.
Deposits are preferred to be sent via check in the mail. However, we also accept paypal. Contact us for deposit amount and for our address. The deposit must be accompanied by a signed copy of our guarantee and transaction terms which can be found HERE.
Often litters are sold out entirely before the puppies reach 7 weeks of age. However, should a family wish to wait to place a deposit in person, they may do so at 7 weeks when the puppies are old enough for visits. There is no guarantee, however, that any puppies will be available by that time. We do not allow visits prior to the puppies being vaccinated, to protect them from potential introduction of harmful bacteria or viruses.