The first 8 weeks lay the groundwork for the rest of your puppy's life in regard to Health and Temperament.
Everything we do is carefully planned, designed, and intentionally carried out with this in mind. We are constantly researching and seeking to further improve our program.
Health
---
For large breeds like German Shepherds, a major health concern is hip dysplasia. Research shows that puppies are born with perfect hips and that their environment during the first 8 weeks has the greatest impact on their joints. The three most important environmental factors are nutrition, exercise, and surface area.
Regarding nutrition, our puppies are fed only high quality food--this significantly impacts joint development and also strong cartilage for properly standing ears. Our puppies' weights are also carefully monitored in order to prevent obesity. Overweight puppies have a much higher risk for developing dysplasia.
In regard to exercise and surface area, studies show that puppies raised on hard surfaces have a higher risk of dysplasia, while those that regularly play on soft, uneven surfaces (i.e. the yard) are at lower risk. And so, we have carefully chosen the surfaces on which our puppies live. We are also very intentional about taking our puppies outside several times each day for safe and fun "play time." This is healthy not only for their bodies, but also for their minds. A constantly cooped-up puppy is an unhappy and understimulated puppy. For more information on research about the environment affecting hip development, click HERE.
Temperament
---
The number 1 reason for puppies and dogs being abandoned or placed in a shelter is temperament. A bad temperament can be the result of irresponsible and/or uneducated breeders turning out puppies with unsound, nervous, or aggressive temperaments. It can also be the result of poor socialization during the most crucial first 8 weeks of life. In addition to breeding only well-mannered dogs with sound temperaments, we have a reputation for producing well socialized puppies. This is extremely important especially for naturally protective breeds like German Shepherds. Our puppies are happy and confident when they leave our care. Because we are a family professionally breeding on the small scale, each puppy receives plenty of attention. They are exposed to multiple positive and safe situations and interact with all ages. Our puppies are handled throughout every single day.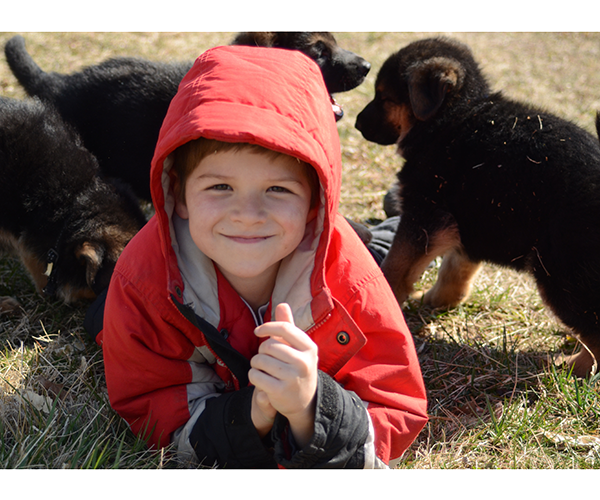 Luke probably does the most socialization around here. We've even found him sleeping with the puppies in the whelping box!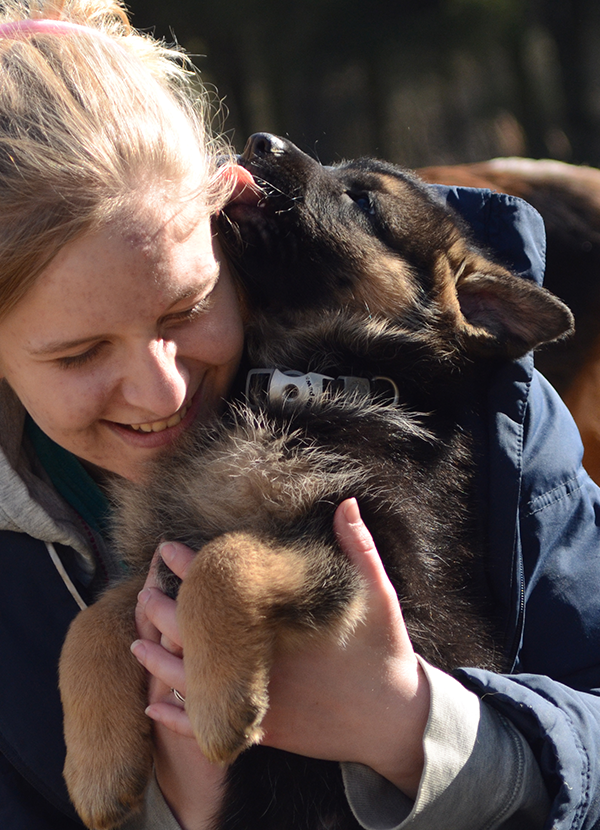 We really care for and delight in our puppies. This causes us to go above and beyond expectations for their well-being.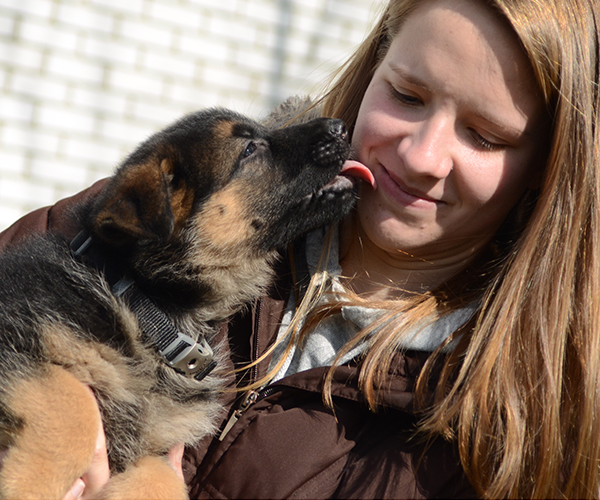 Could a puppy be more loved? Or a person for that matter?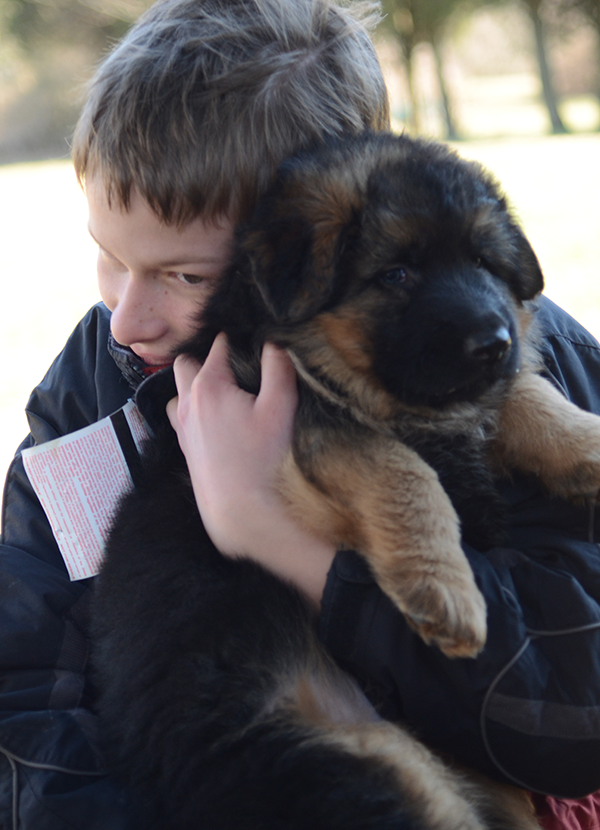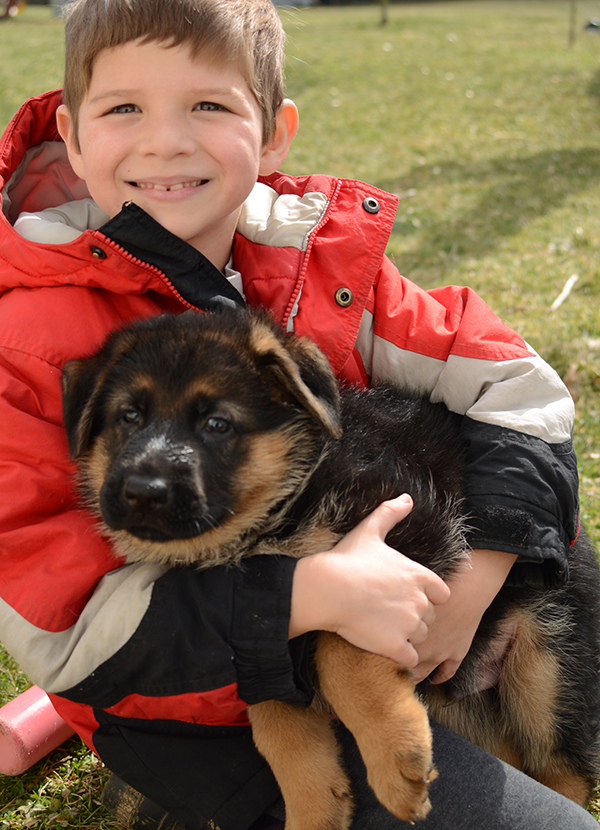 Our dogs are our family pets and we have a lot of fun with them!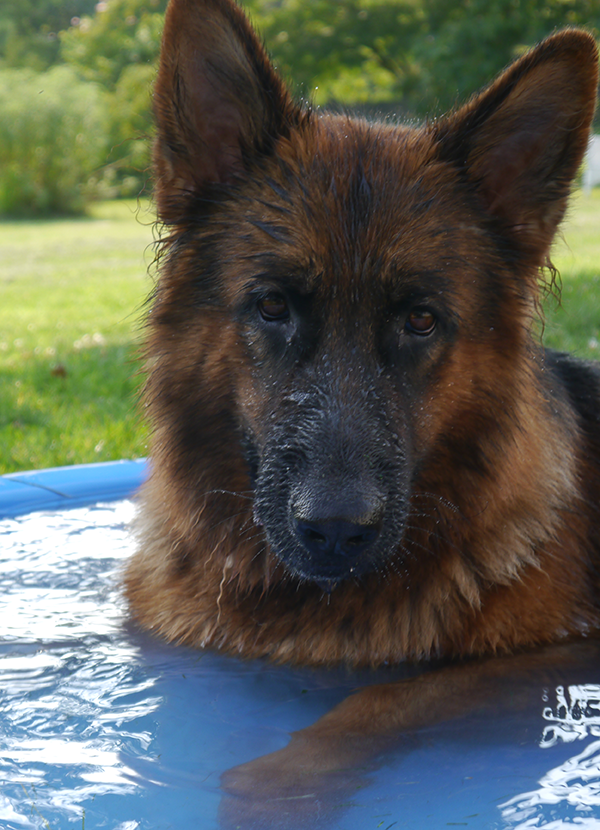 Our dogs are happy, beautiful, and content.
Again, we have a lot of fun with our dogs.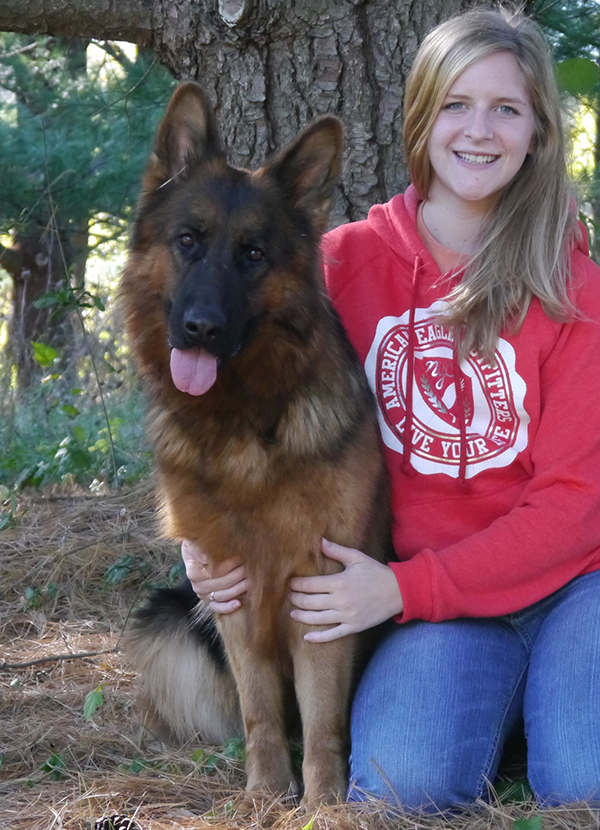 From Day 1 to 8 Weeks
---
From birth until 4 weeks the puppies are on soft, carpet-like material; it helps to prevent future joint problems and promotes warmth and comfort. When they start to require more room to run and play, they are moved to a larger playpen. If the litter is being raised with one of our foster families, the puppies will be raised in their home for the entirety of the 8 weeks under our care. However, if they are at our "home base" in Hagerstown Maryland, the playpen is either in another place in the house or in our "puppy building." This climate-controlled building was built and customized specifically for raising healthy and happy puppies. At this time, the mother still has access to the puppies, but can get away and lay elsewhere in the building for a rest if needed. Some breeders abruptly separate the mother from her puppies at 4 weeks to suddenly wean them for show reasons. We find that this is incredibly sad for the mother and also not as healthy for the puppies. It is very important for the mother to be allowed to nurse the puppies for as long as she will tolerate it. She provides excellent nutrition with immune and digestive support. The mother also has free access to the outdoors during this time. Inside the puppy playpen is clean, fresh woodchips. We found this to be the best way to keep their area clean while providing a soft surface for them to live on. It also gives the puppies a nice, natural smell. Every time we take our puppies for their exams, the vet is amazed at how clean they are.
Starting soon after they're born, pictures and/or videos are posted regularly updating families on the puppies' progress. These videos and pictures are great keepsakes for the future.
At the 6th week, the puppies get their first vet visit. Each one is thoroughly examined, wormed, and receives their first vaccinations as well as a certification of health.
After their vet appointment, we allow visits and the puppies are chosen by their families in the order that deposits were placed. Why after six weeks? The puppies' personalities are starting to show at this time which makes it an optimal time to make sure each puppy goes to the right home. The puppies are also protected by their recent vaccinations from any possible viruses introduced with large number of outside visitors.
At 8 weeks of age, the puppies are ready for their new homes! They are happy, healthy, well-socialized, and confident! When they are picked up, the remaining purchase price is due in cash.
We want both our puppies and our customers to be happy! During the first 8 weeks, the groundwork has been laid for success, but our service doesn't end there. You can count on us now and in the coming years for a lifetime of support.
*Please note that if we are asked to hold a puppy past its eight week old date, an extra $20.00 will be charged each additional day for food and boarding.
Each Puppy Comes With:
---
Limited AKC Registration

or

Vet Records (first set of shots and worming)
Health Certificate
Hip, Elbow, and DM Guarantee
Additional 10 Day Health Guarantee
Lifetime Support
Placing a Deposit
---
We start accepting deposits when a breeding is planned.
Deposits are non-refundable unless there is no puppy of the gender requested. In this case, the deposit may be refunded, transferred to the other gender (if one is available), or transferred to another litter.
Deposits are preferred to be sent via check in the mail. However, we also accept paypal. Contact us for deposit amount and for our address. The deposit must be accompanied by a signed copy of our guarantee and transaction terms which can be found HERE.
Often litters are sold out entirely before the puppies reach 6 weeks of age. However, should a family wish to wait to place a deposit in person, they may do so at 6 weeks when the puppies are old enough for visits. There is no guarantee, however, that any puppies will be available by that time.